Log Splitter Buyers Guide
Splitting wood is not a simple job but it requires much efforts and labor while consuming a lot of your time especially when you are using a conventional tool such as an axe. Thus if you have many logs to deal with, you may not find it viable to waste time and efforts with the use of an axe rather is it not suitable to opt for a tool designed specifically to deal with logs. A large stack of logs of wood for fire would be difficult to split manually and thus if you wish to get the job done without much physical exertion, a splitter would be correct option for you. A variety of best log splitters are available in market and you need to check your preferences to select the ideal choice for your work.
The Definitive Guide to Help You Find the Best Log Splitter to fit Your Needs!
Different types of splitters offer varied benefits and at the same time have some drawbacks. We are going to discuss different types further later in this page. This piece of machinery must be selected keeping in view all the important features that you need and you will be able to make a good choice.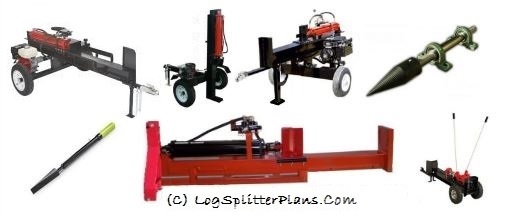 Overview of log splitters
Log Splitters are tools that are used for the splitting of different wood logs, whether hard or soft. Such logs are usually pre-cut with saws giving round sections the operator can split with the use of a splitter. Splitters usually include an assembly of hydraulic or electrical rod and piston cylinder, and their performance is measured in terms of tons of force that they produce.
Ordinary splitters that are considered suitable for home use are usually the ones that have a rating of 10 tons whereas log splitter reviews suggest that professional grade systems suitable for industrial use can generate 25 tons force. More force meaning more rating of a log splitter and more rating would mean that the splitter is capable of dealing with thicker logs of greater round lengths.
You will also find some manual log splitters that need mechanical force for forcing logs through the blade assembly for splitting. Also there are three point linkage tools that are driven from a tractor's shaft with splitter placed on the three-point linkage.
A splitter includes all the parts that are found with a hydraulic machine and these include:
Engine
Hydraulic Oil Pump
Valve
Tank
The construction is such that the engine is attached to the hydraulic oil pump and it gives this tool all the power for operation. A high-pressure oil stream is created with the pump and this stream passes to the valve. The splitter is actuated when the valve is triggered by the user. The tank of the splitter is the place here the hydraulic oil is stored and from there it feeds pump continuously during working. A filter is also included in the construction that enables cleaning of oil throughout the operation. Apart from hydraulic pump, other power sources could be gas, electric or diesel power.
Why should you buy a log splitter?
Log splitter may not be of need to everyone but this equipment is usually need of those who may need to split wood for their fire pit or fire place during vacations or for people who have a cottage with stove burning with wood logs. Log splitters are needed by professionals who need to deal with splitting of logs on daily basis and that too a large number. These are not cheap equipment and thus you need to analyze log splitter choices before buying and whether you really need this tool and would be using it or not? This would surely be a long term investment.
Usually people who go on adventurous vacations are usually found spending that quality time in splitting firewood into pieces but when you have a tool to make your life easier then why to spend time working over difficult things. When in need of wood for fire, you may either split it by yourself or can buy some, or you can use a log splitter.
Some of the main benefits that you get out of log splitter include:
Log splitting becomes quicker and less time consuming so you won't have to spare whole day for splitting logs.
You can be sure of cutting perfect size that is desired.
Log splitters if maintained well would prove long term investment tools.
These tools are easier to use for splitting logs.
With care, you can safely operate this tool without getting injured. You don't need to have an axe for cutting wood in to pieces which is rather dangerous tool to use and may cause fatal injury too.
Owning an electric splitter would save energy along with reduced consumption of time.
Owning a splitter also proves friendly for environment as you would not be exhausting gas in environment.
In order to drain maximum benefits out of this tool, you need to make sure that you select the ideal type for your applications. You will find some cheap types, some that are designed for light work at home while some are heavy duty industrial use splitters, so just make sure that you know the details of the splitter you are selecting and that it is a more easy to manage and convenient to use choice for you. Match your usage and know the machine setup in order to have it settled at your workplace or home without taking hassle of making many changes. Do your research and find the best log splitter type for you.
Type of log splitters
Types of wood splitting options depend upon varied factors and here we have categorized different types of log splitters according to capacity of use and power source. You can choose between three different types depending upon your usage and capacity requirements along with other important things. These types have varied capacities and processes of use.
Electric Splitters: These splitters are most convenient to use and you can easily use them indoors. They run on electricity and thus there will be no harmful fumes generated offering you most comfortable and safe use of log splitting. Most of the electric splitter models are designed to be used with a standard 120 volt outlet. So you can easily operate them with your current household voltage. They usually are also appointed with grounding feature that prevents from any short-circuit to happen. Not only they are convenient to use but these are affordable in price
Gas Splitters: These types of splitters are difficult to use but they are desirable for offering huge splitting capacity. You can split even toughest log with these splitters. These are usually bulky in size but are appointed with a trailer that makes them easy to transfer from one place to another. These bulky tools are usually capable of handling around 38 tons of logs. Because of their huge splitting capacity, these types of log splitters are the most expensive ones. An important consideration for using log splitter is to have proper ventilation of harmful gas fumes that these tools produce.
Manual Splitters: If you are tight on budget and are looking for something really affordable, you can opt for manual splitters. You can find varied styles of manual splitters available in market and they are capable of offering 10 tons of capacity for splitting. They are appointed with a 2 speed pump that enables you to control speed. So you can change and adjust speed according to your job requirement. With manual machines, you can find some really light weight portable ones that user can easily take to the place of work. The only drawback is that these require more efforts from users and consume a lot of time in comparison to other two types. A manual splitter may not be suitable for dealing with huge stock of logs.
Tips and tricks for choosing the best log splitter
Choosing the ideal splitter for your use is really important in order to make most advantage of this tool. For a quality tool, you need to make sure that it has all the key features of a best log splitter. In this part we have shared some of the basic considerations that you must keep in to account while selecting a splitter.
Convenience Features:
It should be easy to move:
You may need to move your log splitter from one place to another in order to keep it safe after use. A bulky splitter without portability features would be difficult to move. So you must look for splitter that has wheels so it can be transferred with ease. Some may need to be towed so in that case look for ball hitch feature that enables careful and safe towing with ease. Having a transport handle would be additional advantage that makes transferring even easier.
It should be comfortable for use:
Many splitters are now offered with stands that can easily raise the tool without needing you to bend. Another convenience feature that makes handling easier is an ergonomic rubber handle. So even if you will be using this tool for extended period, you will find it most convenient to use.
Adjustable height for varied sizes:
Splitters are capable of dealing with different sizes of logs and thus having a log plate for height adjusted is an important feature. This gives you faster and simpler guided operation. Usually splitters are offered with three position height adjustment plates but some may have two. Some vertical style tools also have clamps that make handling of log easier.
Performance Features:
It should have a powerful motor: For log splitting, you need to deal with different tough as well as wet wood and thus your tool should have power to deal with all these different types of logs. Depending upon your requirement, if you will be dealing with toughest woods you must have a splitter with enough power to deal with it. Factors that must be considered include horsepower, amps, force etc.
Splitters are long term investments: In order to ensure reliable use for years to come, you should opt for a splitter with durable all steel construction. Buying such a tool is not an everyday task but is an investment for long term so make sure you buy something that would work well for many years.
It should have quicker cycles: A splitter that has quicker cycle time would give you higher productivity in reduced time. A reasonable cycle time is around 15 seconds. Log splitter reviews suggest that ones with faster cycle time will give you an increase in the number of logs split.
Your splitter must be capable of handling larger diameters and length: The larger wood size and diameter your splitter can accept (larger capacity); the more work you can get done with your tool. It is best to choose splitter that is capable of handling length of 20 inches and diameter of 12 inches. However some high-end more powerful splitters can even handle 25 inches size.
Consider warranties: Best log splitters can give you extended warranties however a reasonable one should have at least 1 year of warranty.
Splitter should be from a reliable manufacturer: Make sure that your log splitter is from a reliable well-known manufacturer with a sound background and reviews.
Check reviews and ratings: Once you select a particular type and model of splitter, make sure you check its ratings and reviews. You can get feedbacks about a particular tool online and the information you gain from these feedbacks would surely prove beneficial for making a decision.
Safety Features:
Two handed operation: Most of the splitters have this feature for safety purpose where you get to use both hands for processing log through splitter in order to remain safe.
Control Levers: For additional safety, log splitters must have shielded control levers. While operating this tool, users are strictly advised to keep their hands away from the splitting area and this feature even makes sure that the operating levers are also kept shielded in order to prevent from any dangerous accident.
Adjustable Swing out Feet: These adjustable feet ensure that you get more stability with using your splitter. This feature gives you stabilized base for splitting operation.
Emergency Stop: Some high-end models offer this emergency stop feature that gives you zero voltage trips and immediately stop function in case of emergency.
Conclusion
Prior to deciding to get a splitter, you need to analyze whether this tool is what you need for your jobs to be done. Moreover it is always viable to give it a thought that actually what features you need in terms of capacity, performance, safety and durability so that you make a right decision for this long term investment product. You should have a clear idea of what your requirements would be from this tool and if it has enough power and features to fulfill all those job requirements.
Check log splitter reviews in order to make sure that you will be able to make use of all the benefits that your selected model is offering. It is not only important to buy the right product but you should know how to take proper care of it. Without maintenance, your tool may not last long and thus you would suffer a reasonable cost for replacement along with waste of your prior investment. Make sure that you know how to use and maintain the splitter before you operate this tool.