Log Splitter Shopping: F.A.Q's
Before considering buying a log splitter, a buyer may have a lot of questions in mind. Answers to these questions enable buyer to understand whether he needs to buy a log splitter and what kind of splitter would be most appropriate for things that he want to get done. Here we have gathered some of the basic questions that a new buyer would have in mind.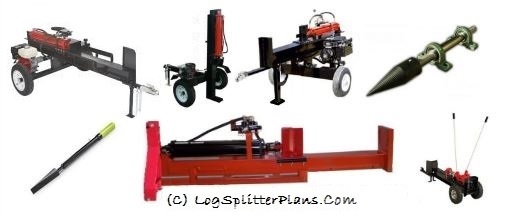 1. What are different methods of splitting log?
Log splitting can be done with different methods. Conventional axes can be used for log splitting but with such tools, user would need to dedicate a lot of time and efforts for work to be done. Other than these tools, there are splitters that incorporate hydraulic pump system. This method would need human efforts too with pumping. Many high-end best log splitters are now electric and gas powered and these offer higher capacity and less efforts however they are expensive than prior methods of splitting.
2. What are different types of log splitters and which one should I buy?
If you will be dealing with huge stock of logs, then you may consider buying a professional grade industrial style gas powered or electric splitter. Gas splitter would give you faster cycle time, more productivity and increased capacity. However these are loud bulky machines that produce harsh fumes and are difficult to move. Electric powered splitters are much quieter and can be used indoors. These environment friendly tools do not emit any harmful fumes and their capacity is good enough for average home user. Manual machines are least costly but they need a lot of efforts and would consume more time in comparison to other two types.
3. What should I consider before buying a splitter?
Some of the important factors that must be considered for purchase of a splitter including cycle time, engine power, size of cylinder, splitting force, safety features and price.
4. What sizes of logs can I split with this tool?
Answer to this question would differ with the type and model of your splitter. Log splitter reviews suggest that a reasonably good splitter can easily handle a size of 20 inches of log length with ease.
5. Would I need to assemble a log splitter?
This truly depends upon make and model of your splitter. In case assembly is needed, it will be over operating level and instruction manual of these tools include all details and guidelines related to assembly.
6. Are these tools easier to move?
With different types of splitters available in market, you can get everything ranging from light weight portable tools to bulky heavy weight splitting machines. Smaller ones can be easily handled and moved however heavy ones usually come with wheels and transport handles so user can easily pull the machine as and when required. Some bulky ones also can be connected to a trailer for moving.
How to make a log splitter?
At some point of time you may need to split some logs into firewood, and you may not have a proper tool such as an axe or saw. No worries, you can easily make a log splitter by yourself. Here we have outlined some simple steps for building a log splitter.
This tool is composed of some basic parts that include a hydraulic oil pump, engine and valve. You need to first prepare a structure to place your splitter on with the help of which you will be able to transfer your tool from one place to another.
Take a 5 HP engine filled with petrol and you should then attach it to a dual speed hydraulic pump. This pump should be able to pump around 3 gallons of oil each minute at the rate of 2500 PSI.
The hydraulic cylinder is usually a 24 inches structure having a diameter of around 4 inches. Place a valve on this cylinder that would be used to power piston.
Now you need to attach hose with pump and valve. Valve can be used for adjusting movement of cylinder and will be used to control the tool. Pump in active mode would pressure oil to reach valve to drive piston and thus a wedge for cutting will flow down for splitting.
Pipe fittings must be welded on oil tank top and thus oil drawn from tank will be used for feeding pump.
Now make a trough of V shape that would be used for holding logs for splitting. This trough can be made with angle iron pieces (2) each of length 5 feet and width 2.5 inches. They should be arranged to form a 90 degrees touch. Bridge one angle with wide steel bar and connect it such that it forms an angled 125 degrees space. This place will be where your log piece will rest.
How to clean a log splitter?
In order to enjoy ease of maintaining a log splitter, it would be more feasible for you to buy a splitter that is self-lubricating. A self-lubricating splitter is much easier to maintain as suggested through log splitter reviews. Such tools automatically clean all the parts of the splitter after every use and thus user doesn't need to make much effort for maintenance of this tool. A self-lubricating machine would also clean the blade of the splitter on regular basis and thus you need not to sharpen them at quite frequently. The blades will remain sharp for longer durations.
In case if your tools is not self-cleaning, you need to make sure that the tool is cleaned regularly. This would ensure that all the debris, dirt, grease and oil are removed from the splitter. It is important to make sure that cleaning is only initiated when the machine has stopped working completely and is turned off. This is important for personal and tool safety. Regular cleaning of this tool ensures that all the debris is removed and thus the machine would not be at the risk of facing the issue of clogging.
In order to ensure safe cleaning, user must follow all the cleaning tips as under:
The entire exterior structure of the splitter must be cleaned with a clean dry damp cloth. Clean up all the dirt and dust from wedge and plate.
For cleaning up of all the remaining dust and dirt particles, user can use a brush with soft bristles. You can even use an air compressor for cleaning.
All the metal parts have strong tendency of catching rust if not maintained properly. Thus you must clean all such parts with an oily cloth.
You must check and change engine oil according to instructions mentioned in your splitter user manual.
Air filter must be checked and clean whenever you feel it is not working properly or otherwise refer to manual.
You must check all the bearings every 6 months or year for greasing as and when required.
Important Instructions:
Cleaning your splitter with the aid of a garden hose may damage your tool as there is possibility that water may contaminate fuel system of splitter and may enter engine to cause damage.
Always make sure that the splitter is stored in a dry place away from water and any substance that may cause ignition.
Even if you own one of the high-end best log splitters, cleaning care and maintenance would ensure efficient performance of your too for years.