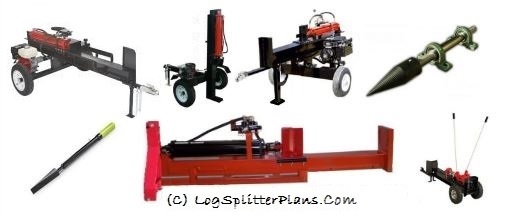 How does a log splitter work?

The log splitter power source or engine drives a hydraulic pump which is triggered through a hydraulic valve to pump hydraulic fluid from a tank to extend inlet of the hydraulic cylinder. This pushed the log into the splitting cycle. The cylinder has two inlet sides and when the valve is moved the other way the fluid is pumped into the alternate inlet to retract the hydraulic cylinder. This moves the glide back to the starting position to insert another log splitting.

What are the advantages of using a log splitter?

Log splitters can become handy firewood production tools that can save you time and money. When you have a wood-burning stove or fireplace, the cost for a supply of split wood can be greatly reduced if you can split your own supply for those cold winter months.

Do log splitters require any maintenance or service?

Hydraulic gas engine powered log splitters do require common inspection and service requirements. Maintenance can include recommended oil changes, hydraulic fluid filter replacement, inspections for leaks, and component lubrication service.

Do I need to sharpen the wood splitter's splitting wedge?

The splitting wedge should never need to be sharpening when appropriately used. It should remain sharp as long as it is being used on wood only and not abused.

What type of hydraulic fluid is recommended for my log splitter?

Check the Owners Operation Manual and/or the NOTICE decal on the hydraulic fluid tank for recommended fluid. This can be largely dependent on the outside temperature where the log splitter is being used, AW-68 is recommended for temperatures above 50°F.

How often should the fluids be checked and changed?

The fluids should be checked before every use.
Engine oil should be changed annually, or based on active use (see owners manual).
The hydraulic fluid filter should be changed each year
The hydraulic fluid if the system is kept clean can go for longer. If oil is clear and looks like "new" it could work for another season. Keep in mind that oxidation and moisture from air along with how much "dirt and water" moves around could trigger a more frequent need to change the hydraulic fluid.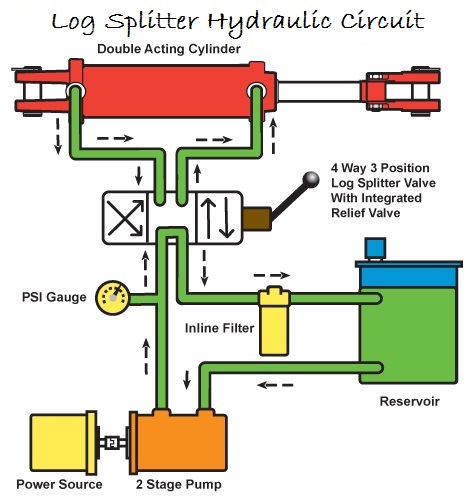 Our Log Splitter Buyers Guide can help you sort through many questions related to purchasing a log splitter. Common points of interest include:

The type of log splitter i.e. vertical, horizontal, 3-point etc.
The power of a log splitter needed can vary but for a homeowner splitting their own firewood, a 22-Ton or 27-Ton log splitter is generally adequate. If you're producing large quantities of firewood or splitting hardwood, a 28-Ton to 35-Ton log splitter may be better. A firewood production business may bump that to 40 or 50 ton.

What are the physical difference between various tonnage models?

The size of the hydraulic cylinder is most significant difference, and this can makes a difference in the time it takes to complete a "cycle", i.e., fully extend the rod, then retract to the start position.
The maximum log size length the splitter can accommodate. Check your fireplace or wood stove for maximum width or depth capacity before purchase. Generally logs are 24" to 30" in length.