18 Ton Horizontal Log Splitter Plans
If your looking for a log splitter for home use, this is the one to build.
The plans to build this horizontal 18 ton hydraulic log splitter (as shown below) are easy to follow and present a step by step fabrication and assembly guide to construct this versatile log splitter you can tow behind a vehicle to wherever you need to use it. You can use our plans to assemble this splitter from new steel and parts, or substitute materials found around your shop, or at a local metal recyclers scrap yard.
Log Splitter Plans Step By Step How To Build Guide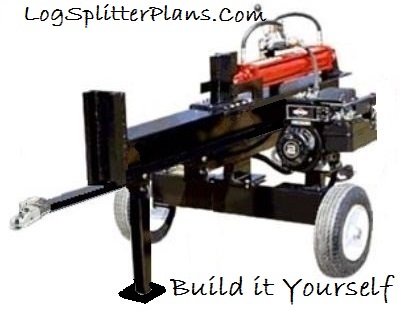 Most of the cost to building a log splitter like this is in the power plant, and the hydraulics.
This includes a horizontal shaft motor along with hydraulic components like the hydraulic cylinder and pump, control valve, fluid tank and filter, hydraulic hoses, and coupler fittings.
Using an I-beam for the main structure of the log splitter construction, along with channel steel, square tubing and plate steel, "all of which may be found in your local scrap yard" you can fabricate and assemble the main splitter beam assembly, then add a set of scrap yard axels, rims, and tires to get it all on the ground.
18 Ton Hydraulic Log Splitter Plans Are Just $4.95
PayPal - Just $4.95 >>

Pay By PayPal or Credit Card

Build-it-yourself LogSplitterPlans.Com
18 Ton Horizontal Log Splitter Plans

download link sent to your paypal email address
You can fabricate the rest from many variables of scrap to put together the log butt plate, splitting wedge, hydraulic tank, towing tongue, and peg leg with foot. Home built to save you money!.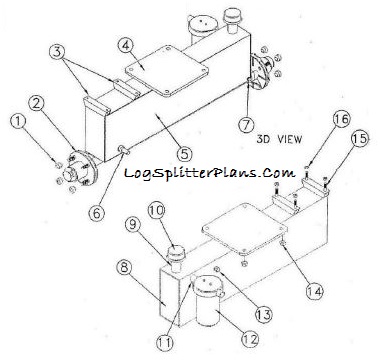 The plans consist of 23 pages in a pdf file that details fabrication and assembly along with components needed to get your log splitter up and running.
These design plans save money and space by fabricating the hydraulic tank that will become the supporting structure for the I-beam assembly along with the axels and wheels.
Other components like the hydraulic filter and the motor also reside on this main structure encompassing the hydraulic fluid tank.
18 Ton Log Splitter Plans Include 23 Pages For:
Table Of Contents
Bill Of Materials
Fabrication Design
Main I-Beam Assembly (For 18" or 24" Logs)
Assembly Instructions
Hydraulic Tank Fabrication
Hydraulic Pump Assembly
Power Plant Motor Attachment
Over View Schematics
Hydraulic Cylinder Attachment
Guide Plate Assembly
Splitting Wedge Assembly
Hydraulic System Assembly
Towing Tongue and Support Leg Assembly
Design Overview
18 Ton Hydraulic Log Splitter Features
Comfortable Working Height Ergonomic Splitting Platform
Cab be pulled behind a vehicle for transport to location
Locking Peg Leg Locks Into Place for Stable Use When Not Attached to a Vehicle
Determine trailer hitch tongue size yourself, 1 7/8" or 2"
Flexible plan designed for 18" or 24" log splitting
All Steel Heavy Duty Construction Design
Heavy Duty Main Log Splitter I-Beam Assembly
10.5 Second Cycle Time for 18" Log Splitter Size
13.5 Second Cycle Time for 24" Log Splitter Size
Simplify the winter firewood project now!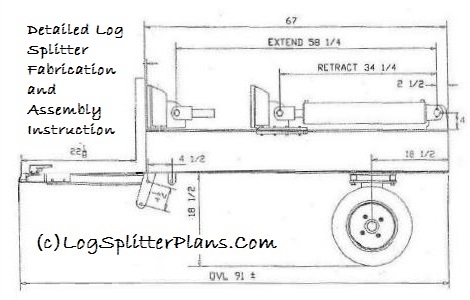 Build yourself a home made log splitter that you can use for years to come.
You can save money on your heat bills by burning your own wood to heat your home.
These simple to follow instruction with help the general handyman to fabricate and assemble a light duty log splitter from our easy step by step fully guided set of plans.
They come in a pdf file that you can use on your computer, or print and take to the garage or workshop. Build you own wood splitter with our log splitter plans and you will make firewood production an easy task to tackle each year.
Winter is coming... Get to it!