Vertical Log Splitter Plans
Today's Vertical log splitters in most cases can be operated in either the vertical or horizontal position. By placing a log in the upright position on the splitter foot you can then operate the splitter forcing the hydraulic cylinder ram and wedge down into the log for splitting.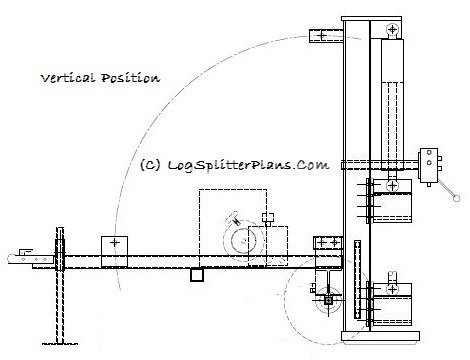 This universal use is handy although not as good a layout for use in the horizontal position as a horizontal splitter.
A vertical log splitter allows you to lower the intensive labor of lifting larger logs.
This operation is simplified by the fact that you can roll logs over to, and on to the log splitter foot for splitting.

Low Low Prices!!!
Purchase A Set Of CAD Design Vertical Log Splitter Plans Today!
Our Vertical Log Splitter Plans Include Full Fabrication and Assembly Instructions Including:


Vertical Log Splitters
Select Your Tonnage Model
Just $8.95 Each
20 to 50 Ton Log Splitter Plans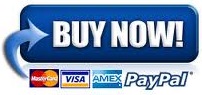 Vertical Log Splitter Plans
pdf plans are delivered to your paypal email address.

21 Page pdf Vertical Log Splitter Plans
Plan Overview
Table of Contents
Bill of Materials
List of Components
Assembly Plans Overview
Assembly Plans Elevation View
Assembly Plans Rotation View
Assembly Plans Vertical View
Fabrication Instructions
Hydraulic Circuit Diagram
Assembly Instructions
Plan Rotation View
With vertical log splitters you have the advantage of having the work area right on the ground.
However, if you have a bad back, this will be the disadvantage as well since you will be spending most of your time bent over or on your knees moving wood
With the vertical system, the logs must be standing upright so that the splitter wedge can be forced down through the log as it is split in half, or quartered depending on your choice of log splitter wedges you use.
More often than not you will find that lighter duty residential log splitters are vertical units while commercial grade splitters are more commonly horizontal units.
When the splitter is tilted into the vertical position it is much easier to use when handling large diameter logs by rolling them over and onto the splitter resting pad with ease. This tends to help the back muscles out a lot as it reduces the need for lifting heavy log up onto the machine.
Tips: Building a Homemade Vertical Log Splitter
Here are some helpful tips to know before you begin the construction on your homemade wood splitter that will help its operation perform at peak efficiency.
First, buy a set of our low priced log splitter plans from the selection in the right column above so that you have a solid plan of attack on this project.
I recommend using a double-acting cylinder, along with a auto cycle control valve that allows the cylinder to retract automatically when the control valve lever is released. The cylinder stroke length should be determined by deciding on the maximum length of log you plan to split, plus a few inches for "insurance".
Like any other hydraulic system, the log splitter must have a pressure relief valve to prevent damage. This should be present in your choice of control valves .Set the relief valve to where it will cut off just before the engine is about to stall.
With vertical units the proper design is to put the log foot plate on the bottom of the upright I beam. This allows the operator to roll the log on to it for splitting.
The suction hose that runs between the hydraulic fluid tank and the pump should be a large enough diameter to move the oil through efficiently.
The return line does not need to withstand high pressure and therefore does not need to be high-pressure rated for moving the fluid.
The log splitter hydraulic pump must be a positive displacement type, and be either a gear driven unit or vane pump.
It is best to use clean hydraulic oil or non-detergent motor oil in your hydraulic system to avoid coagulation issues in your log splitters hydraulic system.
The cylinder attachment joints on both ends should be strong and durable since they receive the full tonnage force that your log splitter is producing.
Be sure that the hydraulic tank is vented properly.
The sliding splitting wedge should operate smoothly and freely along the I-beam, but also ride snugly enough on the beam to prevent it from binding or jamming from during operation. Too much slop will allow it to twist and bind.
The splitting wedge blade you choose can split wood in half, quarters or into six pieces based on it's design. It can also widen out enough toward the back of the blade to push apart the halves of each log as it is being split.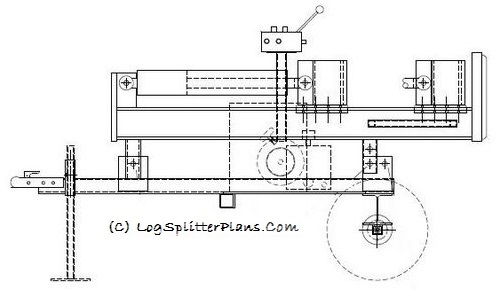 Horizontal / Vertical Combination Log Splitters
Vertical log splitters are more popular than ever for the consumer looking for a home base personal use log splitter to produce firewood for heating their home. Most of these units offer the option to use the splitters in the horizontal or vertical position. This universal ability can be a big advantage in different situations that are often encountered when working on uneven ground conditions.
Always consider safety first when setting up and using a log splitter. Remember, these units produce tonnage force, and that can cause injury or even death when not being operated properly. Think safety first!