Home Made Log Arch Plans
When you're a handyman building your own equipment, there's no reason to stop with just the log splitter plans if you have the need to harvest your own firewood. Our log arch plans can come in handy as well when you find the need to be extracting logs from the woods.
Our log arch plans (sometimes referred to as a log skidder), offers up a simple construction project you can build to secure and pull large logs and trees from an out of the way area in the woods, to a more preferred location for cutting and splitting firewood. A Mule of Sorts!
Log Arch Plans - How To Build Guide
While splitting logs with a wood splitter makes life easier, so does a log arch when it comes time to do the heavy lifting and moving. A log arch can make it much easier to move those timbered trees out of the woods in big chunks.
Our log arch plans are quite simple, so in a quick weekend you can fabricate and assemble this easy to build, manual operated log arch.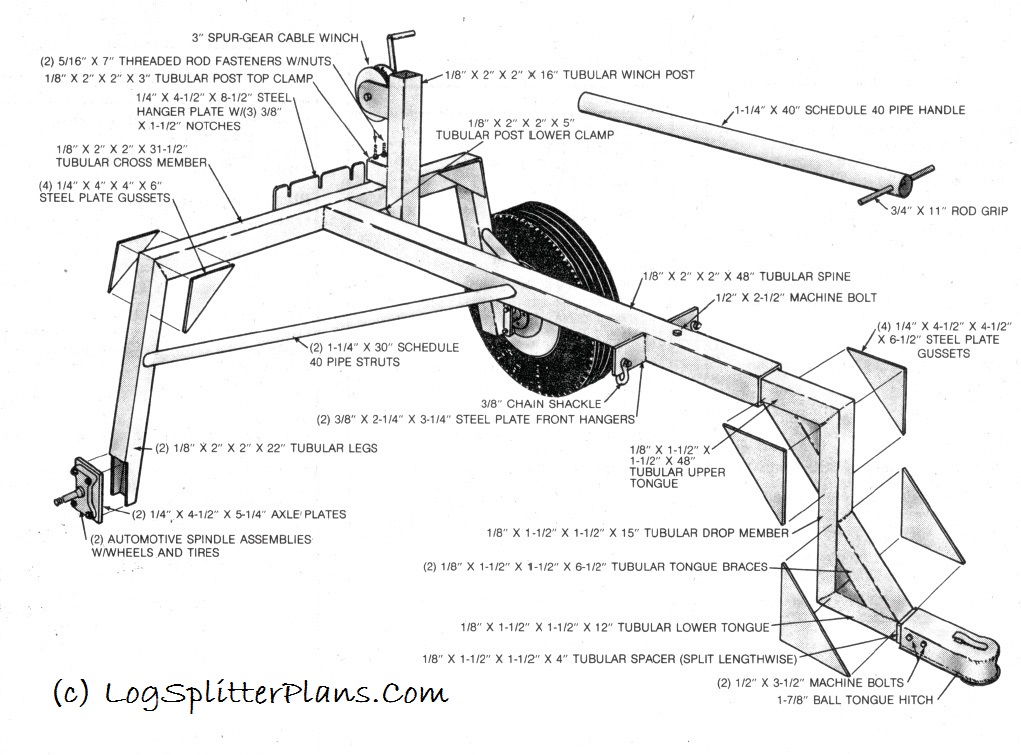 Log Arch Plans Manual Log Winch Assembly
This manual log winch assembly keeps it simple for this log arch.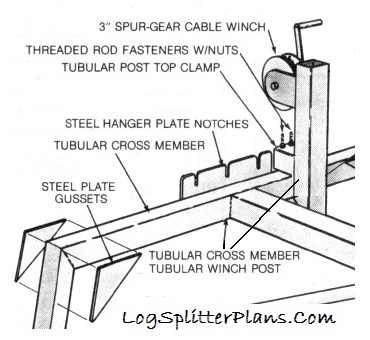 By using a manual operated cable winch there is no need to supply power of any kind to this setup. Oh, Well? a little elbow grease I guess would come in handy.
Just secure the cable to the log to crank it up, then wrap a chain around it and secure the ends into the notches on the hanger plate to secure the log for transport.
It doesn't get any better than this for easy construction and simple operation.
Log Arch Plans Tongue and Hitch Assembly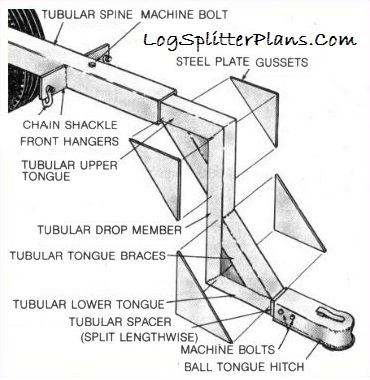 The log arch tongue and hitch assembly offers a reinforced design that also incorporates adjustability for log length through a machine bolt near the chain shackle front hangers.
By removing this bolt and sliding the upper tongue tube in or out, you can adjust the length of the log arch main frame to accommodate longer logs.
Note: Depending on the size of logs you intend to support with this log skidder, the metal tubing system may need to be increased in size and schedule strength to support larger logs or trees. Consult a professional to determine if this is required for your application.
Extendable Log Arch Plans With Length Adjustability
Log Arch Plans Bill Of Materials
1 = Spur Gear Cable Winch
2 = Automotive Spindle Assemblies With Wheels and Tires
1 = Ball Tongue Hitch
2 = 3/8" Chain Shackles
1 - 18" Square 1/4" Steel Plate Cut For Gussets and Hanger Plates
5' = Schedule 40 Round 1 1/4" Pipe For Struts
8' = 1 1/2" x 1 1/2" Square Tubing For Tongue Frame
10' = 2" x 2" Square Tubing For Main Frame
Rod Grip Pipe Handle Optional
YouTube Basic Log Arch Fabrication Video
Other Types Of Log Skidders And How They Work
A log skidder can be any type of heavy vehicle or trailer used in the logging operation for dragging cut trees out of a forest. This process is called "skidding", in which the logs are hauled or dragged from the area where the trees were cut down, to a landing area where they can be cut to proper length and loaded onto trucks for transport to a mill or area of you choice.
Heavy duty forestry log skidders can be monstrous machines like the log skidder pictured below. When you need to move giant trees, a super duty machine like this Jon Deer may be needed.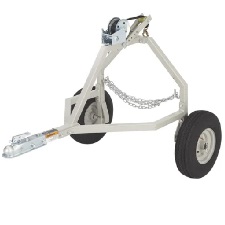 Now that you see how the big boys do it, you may need to reconsider where you go from here. However, for your average Joe looking to pull some logs out of the woods for cutting firewood, our scrap yard log arch build job may be just the right fit for your next free weekend project.