Wood Splitter Log Lift Plans & Solutions
Harvesting firewood starts with the task of downing tree's, and retrieving them from the woods. This is no easy task without the right tools. These Log Skidder Plans will help you build your own log skidder that you can use to move trees and large logs out into a better working environment.
Wood Splitter Log Lift Plans DIY Guide
As you ponder the need for saving your back from strain and injury, a wood splitter log lift mechanism may be at the top of your list to keep you from a sudden unexpected doctors appointment, or worse. Generally, there is not a lot involved to add a log lift to your current log splitter. If you're not into fabricating it yourself, there are options for purchasing a fully fabricated kit you can install on your own. One of these such kits comes from RuggedMade and includes pretty much everything you need other than the control valve, hydraulic hoses, and mounting hardware.
Solution #1 Log Lift Kit
Pre-fabricated Log Lift Kit
Rugged Made Hydraulic Log Lift Kit for Wood Splitters
May be adapted to fit many brands of log splitters and DIY wood splitters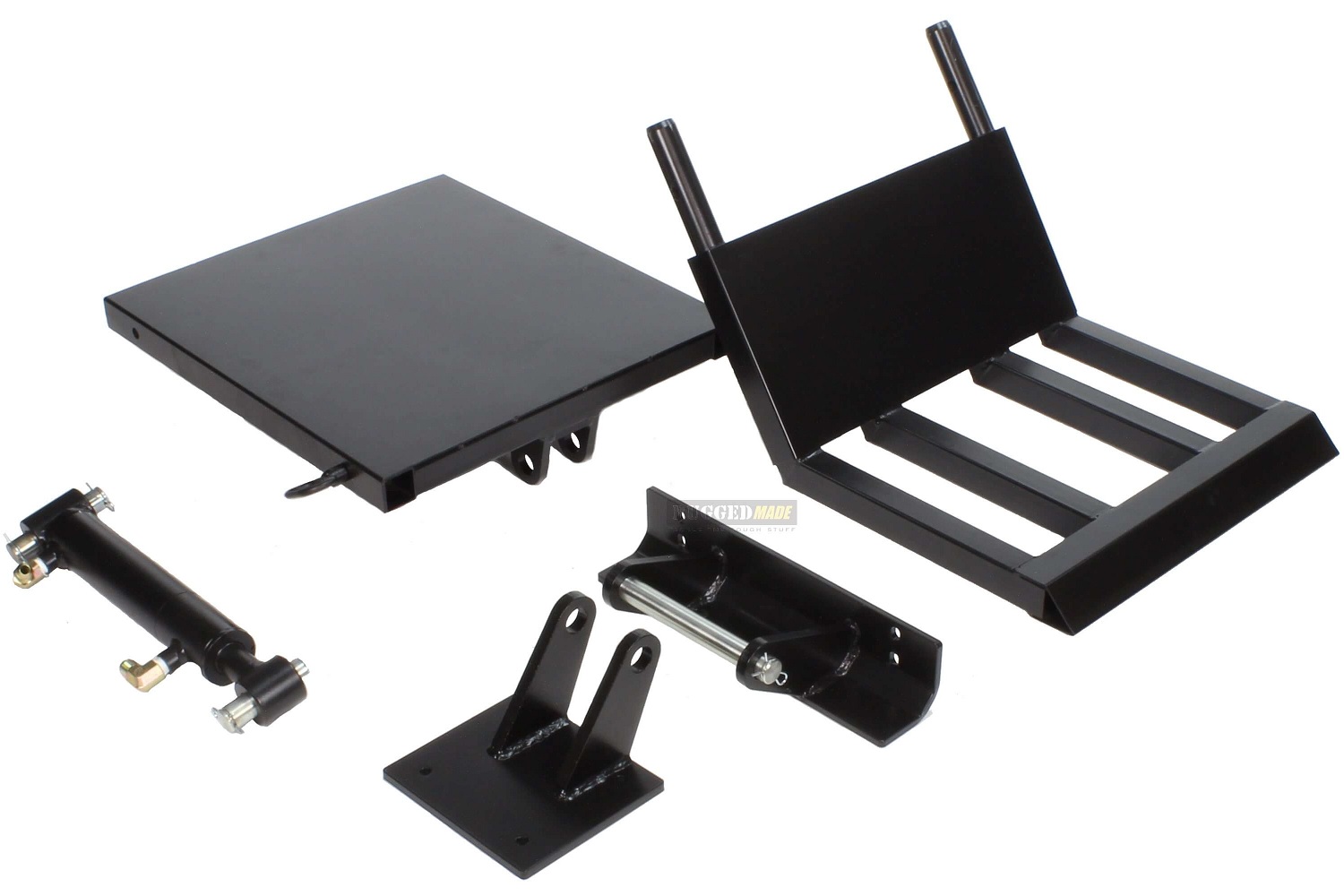 Mounting plates take M10 bolts
SKU: 94-010-3030
Includes:
Cylinder: 2" ID x 8" stroke x 1.25" rod OD, 3/8" NPT Ports, Tube Mount (SKU: 91-151-CYLN-03 PN: W2.13.07)
Lower Lift Tray: (SKU: 94-010-3010 PN: W2.13.03.02-01)
Upper Lift Tray: (SKU: 94-010-3011 PN: W2.13.03.01-01)
Lower Bracket: (SKU: 94-010-3015 PN: W2.13.05)
Upper Bracket: (SKU: 94-010-3013 PN: W2.13.04)
2 x Hydraulic Fittings: 3/8" NPT(M) x 3/4"-16UNF(M) (SKU: 94-030-1018 PN: W2.13.07)
2 x Hitch Pins for Lift Trays, with Hairpin "R" Clips (SKU: 94-010-3021)
1 x Pin: 1" OD x 8.5" L, with 2 Spring Clips (SKU: 94-010-3023)
1 x Pin: 1" OD x 4.6" L, with 2 Spring Clips (SKU: 94-020-0089)
1 x Pin: 1" OD x 4" L, with 2 Spring Clips (SKU: 94-010-3022)
Does *NOT* Include:
Control Valve
Dual Control Valve Platform
Bi-pod Support Leg
Hydraulic Hoses
Mounting Hardware (Use M10 bolts)
---
Solution #2 Unique Parallel Log Lift Arm
This home made build it yourself log lift arm attachment takes up much less area on the side of your wood splitter so it's a plus for tight working areas.
This setup is fairly unique and as you will see in the video, it's a great example of how to create your own log lift mechanism out of scrap you may have around your yard and shop.
---
Solution #3 Cable Winch Operated Log Lift
This isn't at the top of my list by any means but it's a choice I have seen around the internet several times. The real disadvantage here is that it takes up too much time to attach to each log and hoist it up for splitting. While it may be less expensive to fabricate, it no doubt will waste a lot of time during your log splitting task.
If you're not in any hurry, this cable operated log lift hoist design could be the right choice for your wood splitter.
---
Solution #4 Log Lift Constructed of Hollow Tubing
With the many choices out there, this log lift is designed and constructed out of hollow steel tubing. Advantages include being lighter weight, better log stability as it rests in between spaced steel tubes.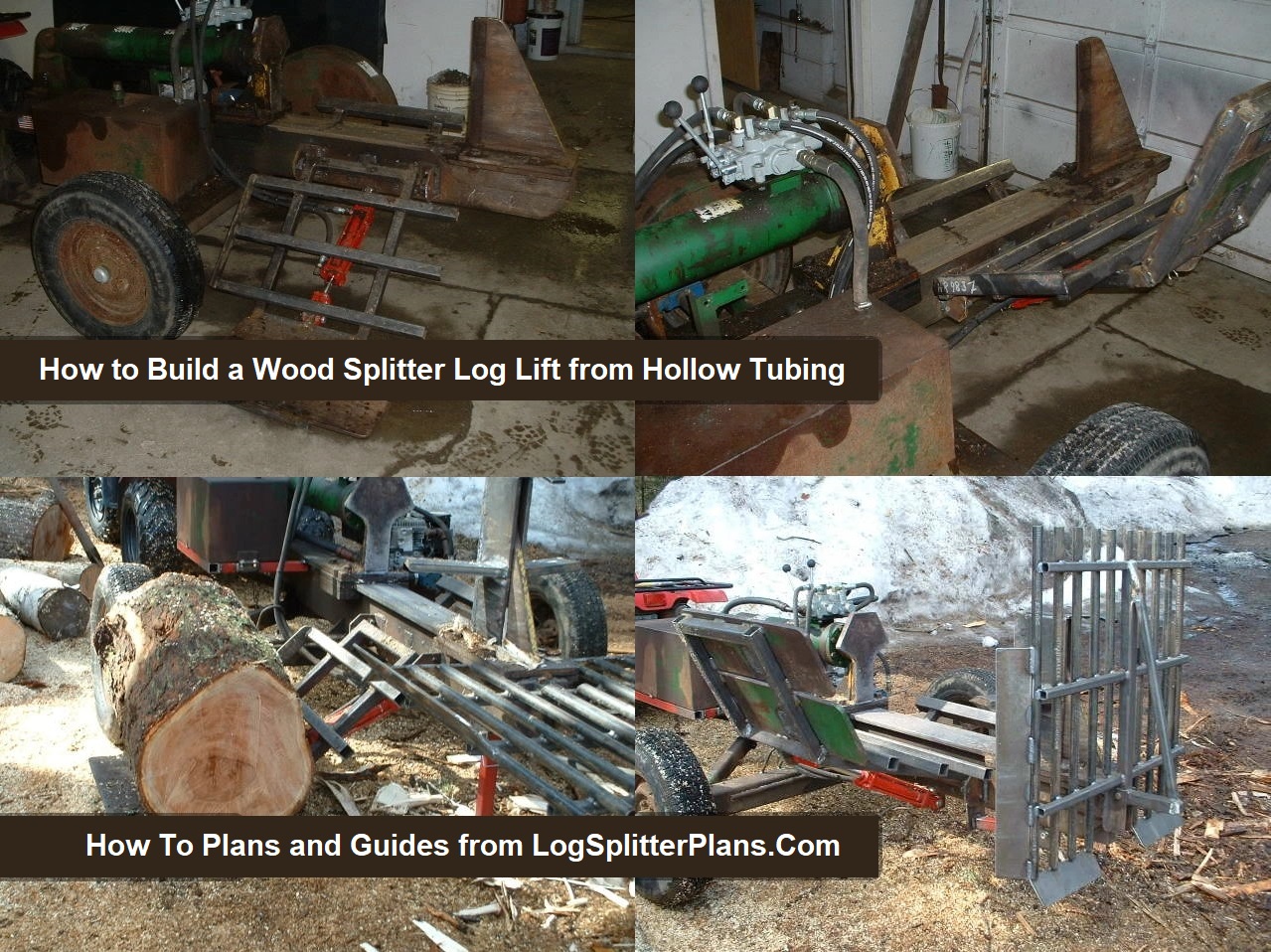 This setup used a 2 spool prince splitter/lift valve with straight brass fitting on the extend port on the lift cylinder, brazed shut, and a 3/32 drilled hole in it for a restrictor. Works perfect, no need to feather the lift valve for fear of launching wood.
---
Solution #5 Log Lift With Protection Cage
This log lift setup considers the operator safety and includes a cage setup that keeps you clear of the logs while lifting. It uses a 12v winch powered log lift and receiving table - log lift and table are removable.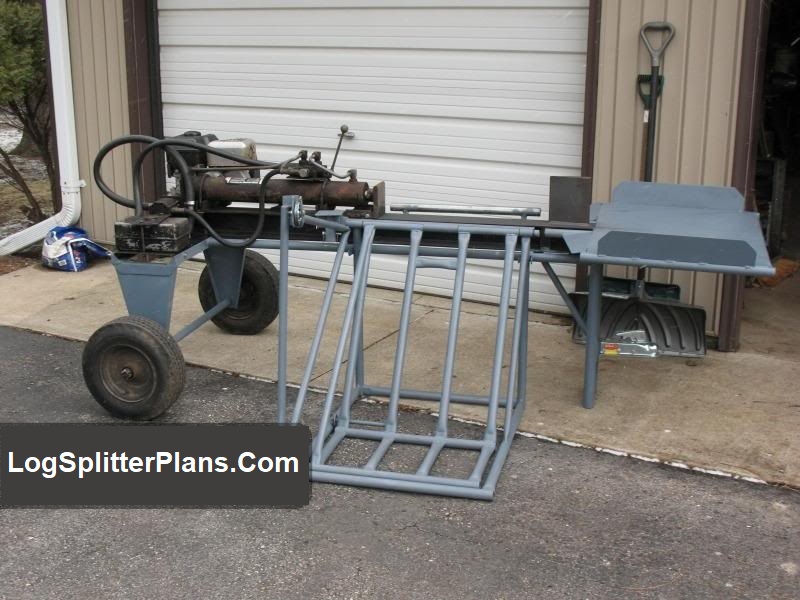 Now there is no guarantee you wont get hurt here by putting your arm, leg, or foot in between the pipes while lifting but the cage setup is somewhat of a deterrence.
---
Solution #6 Side Mount Cable Winch Log Lift
Another unique setup is this side mount electric log lift winch system that is easy to use and does not draw power from the log splitter hydraulic system.

Construction techniques are important here because if light duty steel is used in fabrication it will allow the lifting arm to twist with heavy logs so quality material is important for fabrication purposes.
---
How to Build a Wood Splitter Log Lift
Solution #7 Basic Construction Log Lift System
Many factors may come into play when deciding what fabrication and construction techniques you want to use when building a wood splitter log lift. First you need to decide how you are going to stabilize the splitter from the weight of the log or logs being lifted from one side of the wood splitter. Generally a retractable stabilization leg will work for this purpose.
You may also need an additional control spool with or without a detent (depends on design). 3/4 hydraulic nipple or hose to join the spools. 1/4 hoses to lifting cylinder (may need additional restriction). A platform/lift design, materials, bolts, welder, etc.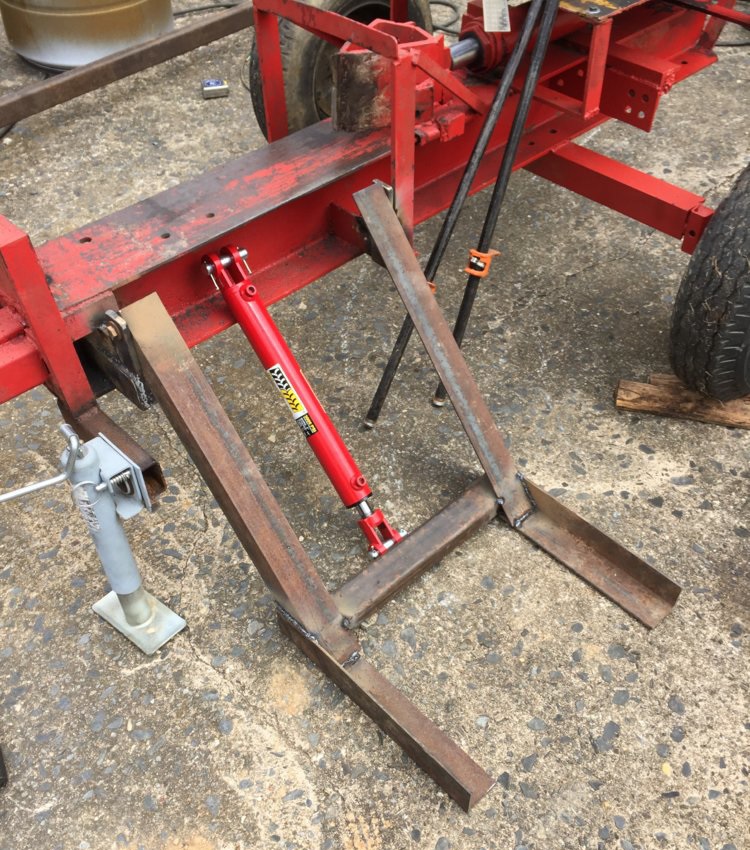 The platform lift design and the cylinder location of the log lift need to be considered.
Materials that may be needed in a simple design as seen in the photo above include:
Flat stock steel
angle iron
square steel tubing
Hydraulic cylinder
Hydraulic valve and hoses
Tools needed for wood splitter log lift fabrication include:
Cutting torch or cutoff saw
welder
drill and drill bits
hand grinder, optional
Knowledge and experience in fabrication