Scrap Yard Log Splitter Build Job
Were calling this the scrap yard log splitter due to the piecemeal way that all the parts and components were gathered for the project.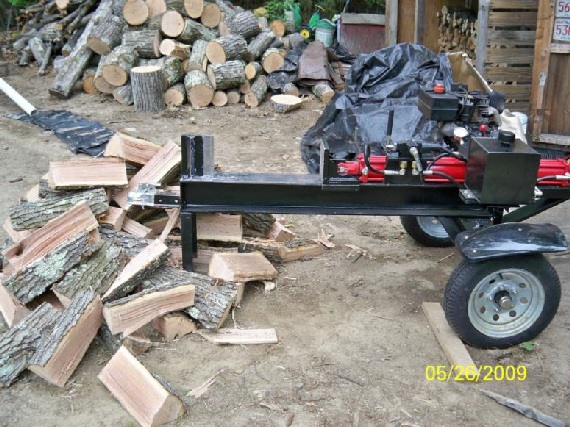 One of the big advantages to building your own log splitter is the ability to find material odds and ends around that can be used in order to save some hard earned cash on the project.
Fact it's common to find i-beam sections and axels along with random steel at your local scrap yard. When you're building your own wood splitter, the flexibility to adapt materials and components you may already have can speed along the project, and keep your budget in line.
This guide is intended to give you a basic overview of how using a set of log splitter plans can help you piece together and assemble a wood splitter at home, or in your work shop.
How The Scrap Yard Log Splitter Was Built
The materials that were scavenged and purchased for this project came from a multitude of sources that we describe below.
How the build job came together piece by piece...

New 40" cylinder (2.75" x 40" rod 3000psi) swap meet $75
Hydraulic spool valve is a Speeco with detent, store buy
8 hp motor (electric start) came off an old snow blower
The beam came from a scrap yard for $20
Hydraulic pump (haldex 13.6 gpm 3000 psi 2-stage) store buy
Hydraulic fluid tank, store buy
7" splitting wedge, purchased on ebay
Tires & fenders came off an old Yerf-Dog go kart
Axles were taken off an old boat trailer and shortened
When a neighbor was throwing away an old snow blower, this project came to light with a big boost. The engine was in excellent shape, and the control panel made for a great control setup by welding the blower levers to the hydraulic tank for a clean organized motor control center.
For the most part, all of the steel came from a scrap yard and was pasted together using a trusty little Hobart 210 Mig welder.
The hydraulic cylinder from a swap meet and the splitting wedge from ebay produce the points of impact that get the job done. The log guide butts up against the log and forces it thru the wedge to be split. This is a preferred design as reversing this may cause the wedge to get stuck in a log that is not fully split. This may cause the log to be pulled back on the return stroke.
This splitter was designed to take a 20" long log and is estimated to produce about 20 to 24 tons of force. Check your fireplace or wood stove before your build to determine that maximum length log your heat source can accept.
For this build, there's probably about $300 in hard cash invested.
After being thoroughly tested out, this log splitter was able to split cherry and cedar like they were butter. Pumping oak through the machine caused those logs to pop right in half like it was pine. With no inkling of stalling out the motor as it splits, this machine got the job done quickly.
Best part is that she's pretty, and she works like she is suppose to. Easy start, easy split, and easy to tow around to wherever it needs to be used.
With a quick cycle time, this machine put out the firewood at a great pace for home use. Plus, as you can see there really isn't that much to building your own log splitter. So there you have it! Pick up a inexpensive set of wood splitter plans here on our website now so you can put together a list of materials and components to keep your eyes open for. Then you may even have a lower financial investment into yours than this project had into it. Thanks, and Enjoy!